About Aeromexico
Aeromexico is the flag carrier for Mexico, flying domestic routes and international routes to Asia, Europe and North and South America. It is a member of the SkyTeam alliance.
Looking for Aeromexico Checked Baggage Policies?
View the 2018 Aeromexico Baggage Policies page for information about carry-on, checked, and excess baggage fees.
Aeromexico Pet Policy 2018
Service Fees




Services for Passengers with Disabilities - Pet Relief Area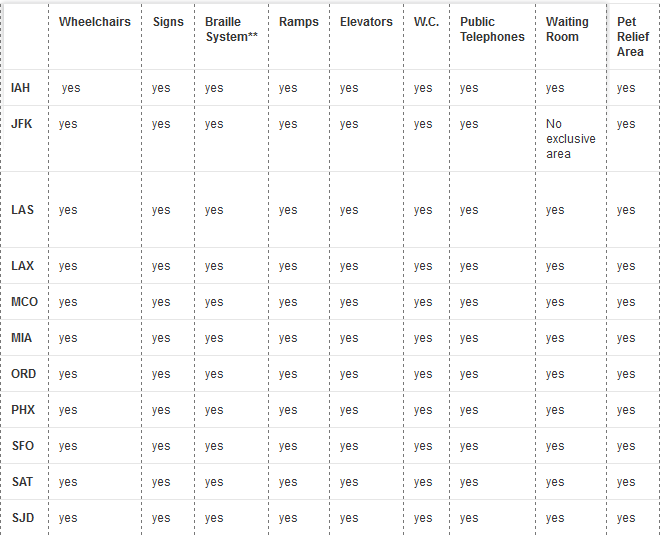 Note: Please consider this only as a guide. Services are under the responsibility of the airport administration and services may vary.

Reservations having special services, like wheelchair, oxygen use, infants, unaccompanied minors, pets, etc. will not be able to use the Web Check-in service and must seek help from an Aeromexico agent.

Service Animals/Guide Dogs
Following are services that do not have to be requested in advance. However, should you need them, we would appreciate that you request them as soon as possible so that we can provide you the best service.

Certified, professionally trained service animals which assist customers with disabilities. In some cases, a certificate stating that the animal is trained to assist the customer with disabilities may be requested. These animals can travel on board next to the customer with disabilities. According to applicable Health and Aviation regulations, transportation of animals in the passenger cabin is only allowed for guide dogs and some service animals accompanying customers with disabilities. Animals that may pose a threat to the health or safety of the passengers and crew are not permitted, such as reptiles, ferrets, spiders, rodents, ponies, pigs and/or monkeys that because of their size or health restrictions cannot be admitted in the passenger cabin.

Guide dogs traveling with a passenger with disabilities must be vaccinated, clean and on a leash. If you are traveling with a service animal, you must provide a certificate in your doctor's letterhead paper, stating that you require the services of this animal due to your treatment. The certificate must be issued no more than a year before your travel date. You must also consider that your service animal must fulfill requirements that are applicable to your itinerary.

For Travel between Canada and Foreign Country
Pets, including dogs, cats and birds, when properly crated in leakproof containers and accompanied by valid health and rabies vaccination certificates, entry permits and other documents required by countries of entry or transit will be accepted for carriage at the owner's risk, and subject to requirements of carrier.

Carrier may limit the number and type of pets, refuse to carry pets in any one aircraft either in the baggage or cargo compartments or in the passenger cabin, or refuse to carry pet(s) if it requires attention in transit.
Exception: Carrier will accept pets for carriage only in the cargo compartment or in all cargo aircraft.

Accompanied pets, when accepted, including the containers carried, will not be included in the free baggage allowance of the passenger. The passenger will be assessed the applicable excess baggage weight charge.

Dogs accompanying passengers
A dog trained to lead the blind will be carried free of charge in addition to the normal free baggage allowance provided that such a dog accompanies a passenger with impaired vision dependent upon it, and is properly harnessed and muzzled, and does not occupy a seat. However, such dogs will not be carried unless proper permits are obtained for entry in to the country or territory of destination and countries or territories of transit where such permits are required and only if the evidence of possession of such permits are presented prior to reservations being made. If any country or territory on the route prohibits the entry of dogs, carriage will be refused. Under certain operating conditions such as long non-stop flights or on certain types of aircraft it is impractical to carry a dog in the passenger compartments and under such conditions carriage will be refused. Carrier will not be responsible in the event any such dog is refused entry into or passage through any country or territory. The owner assumes all risk of injury to or sickness or death of such animal.